Choosing the Right Network Faceplate
Choosing the right networking faceplate can help you save valuable spaces and money.
It is a simple part of cable installation that plays a vital role in the overall cabling effect. The function of the faceplate is to hold a module and protect the cables at the data interface. There are many types of network face plates to choose from. They come with mounting screws and cable-identification labels. They are compatible with unshielded twisted pair shield types such as Cat5, Cat5e and Cat6. They can be used with fiber optic cables as well.
When it comes to a networking faceplate, the best is the RJ45 faceplate module unit. This unit is designed to present high-speed data signals, voice signals and ISDN signals. It is also compatible with industry standard termination tooling and meets TIA/EIA-568-B specifications.
The low profile faceplate construction is great for data, voice, and horizontal cabling applications. The faceplate is made of ABS/PC material that is lightweight and is durable. The faceplate also has two mounting screws. It is a great choice for general work areas, conference rooms, home theater media, and structured cabling transmission installations.
Another great thing about the networking faceplate is that it can accept a variety of network category inserts. The most common are CAT5e and CAT6. It also has an electrical socket. You can add a switch to your network faceplate, and you can also buy a wall plate for your Ethernet cables. A good selection of network face plates will also save you from having to run additional cables to different locations.
The best part about a network faceplate is that it is simple to install. It's typically a square or rectangular shape, but there are some angled versions that provide better protection from heavy furniture. The faceplate also has a dust proof shutter that protects the module when it isn't in use. The faceplate's external dimensions are in accordance with the international standard 86mm x 86mm. The best suited networking faceplate for you depends on the number of gangs, switch openings, and the type of installation.
There are three major kinds of network face plates, namely the 86, 118, and 120 kind. The 118 and 86 type is a rectangle, while the 120 type is a square. They all feature two TV ports, three RJ45 ports, and one RJ11 port. Using a good networking faceplate will save you from having to run extra cables from room to room. You will also need a punchdown IDC tool to punch down the network cables.
The other thing to consider when installing a network faceplate is the type of cable you are using. You can install CAT5e or CAT6 cables, but they still take up some of the space compared to fiber optic cables. Depending on your needs, you may want to consider getting a fiber optic wall plate instead. If you can, you should also consider investing in a stranded cable, which is less expensive and more resilient than solid core cable.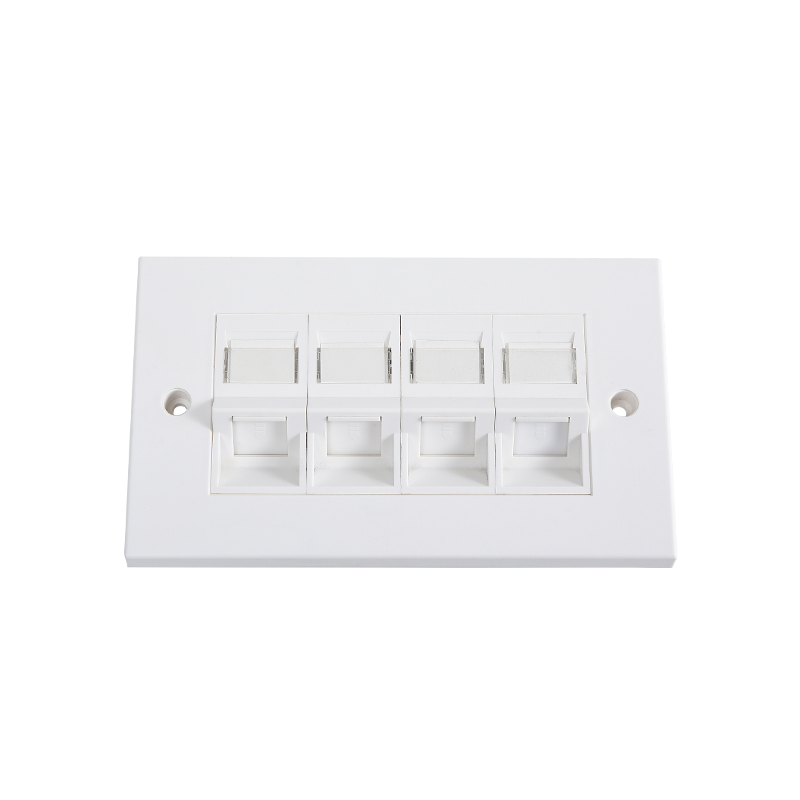 SMT-4306-140P-4X Two Gang 45°Flat Frame UK Type Faceplate