Generally, keystone jacks are used for data communications and for RJ45 Ethernet connectivity.
Some are also used for fiber optic connections. In addition, some keystone jacks also offer 10 Gigabit Ethernet support. There are a number of factors to consider when buying a keystone jack, and knowing the differences between different types can help you find the best one for your project.
One of the first things to consider when purchasing a keystone jack is the technical specifications. For example, the cable should be durable. A keystone jack should also be able to fit into a standard sized patch panel. Some high-performance jacks have improved per-wire shielding for additional protection. In addition, a keystone jack should meet industry standards and have a TIA/EIA 568-B code for superior performance.
Using a punch down tool to install a keystone jack will ensure that the wires are fully engaged in the IDC terminals. Some models also have gold-plated termination contacts. A cross-web filler is sometimes used to ensure that the cable jacket is flush with the connector. Some keystone jacks have a system for hard-wiring cables to the rear of the jack. This is especially helpful when switching patch panels.
You may also want to look for a high-quality keystone jack that comes with a dust cover. These caps protect the jack and provide increased strain relief for the cable. Some keystone jacks also feature a pass-through connector that has a female jack on the front side of the connector and a male jack on the back. Depending on the application, some of these connectors may require insulation displacement connectors or a mini 110 block.
Another important factor to consider is the color scheme. Some keystone jacks come in a variety of colors. These are useful for identifying the cable's connection to the network. However, color is not necessarily a requirement for installing a keystone jack. It is also important to ensure that the cable has the same rating as the connector. This helps to prevent compatibility issues.
Finally, you should make sure that the connector has a compact casing. A large casing will limit the size of the keystone jack. A smaller keystone jack will not be able to handle a large amount of wires.
To install a keystone jack, you will need a punch down tool and a cable stripper. You will also need a cable tester. You will need to decide which wires need to be inserted into which IDC terminals. You will need to label the spaces in the patch panel for easy identification.
Some keystone jacks have a plastic clamp hinge. This allows you to easily insert the wires into the socket. These connectors are often made of high-quality phosphor bronze or gold. Some keystone jacks have crimped connections, and other connectors may have strain relief caps. These features may also be an indicator of high-quality manufacturing.
Depending on the type of wire you are using, you may need to buy a crimping or soldering tool. Some keystone jacks come with a pass-through connector, which allows you to crimp or solder the connection.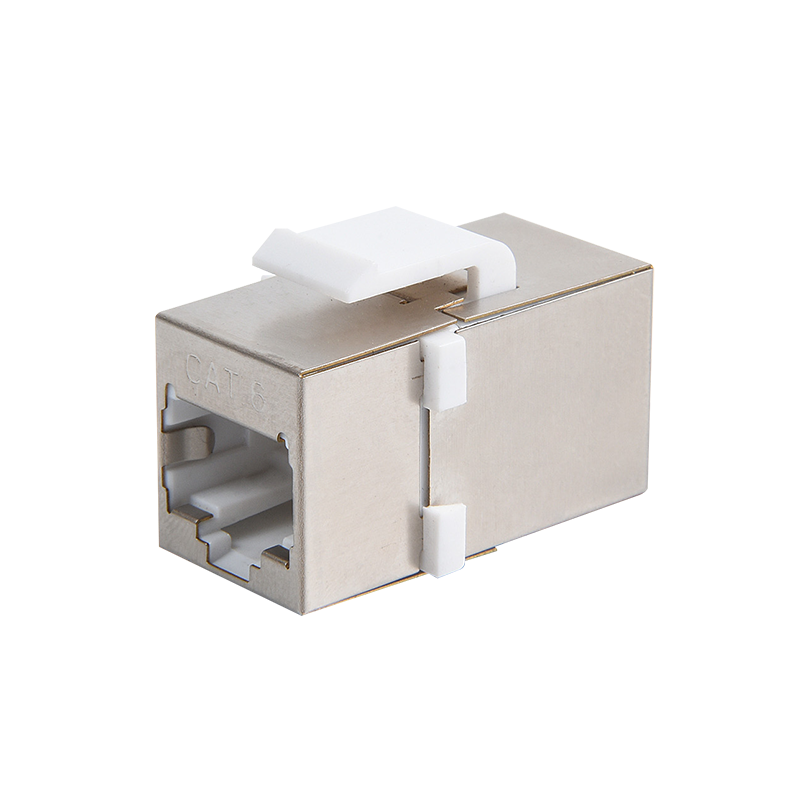 SMT-1034T8C6-FTP Shielded CAT6 Inline Coupler