Among the many networking accessories available, faceplates are an essential element for permanent networking installations. Network faceplates are usually made of ABS/PC materials, and are suitable for both workspace and multi-type installation. They are also available in a variety of colors, and can be filtered by region, brand, and number of ports. Choosing the best networking faceplate can save you valuable space and costs, and can help you meet your networking needs.
There are several different types of faceplates available, including a dual-port face plate, a dual-port keystone wall plate, and a single port face plate. There are also special wall plates available for serial interfaces with DB connectors. All of these faceplates are available for installation with CAT5 or CAT6 cables.
The main function of a networking face plate is to act as a shield to protect the network cable at the data interface. Face plates are typically installed on a wall, and they help keep the cables out of the way. These faceplates can also include a switch and electrical socket. They can be used to install multi-type modules, and to connect cables that run beneath floors or behind walls.
Choosing the right networking face plate depends on the number of gangs and switch openings. The size of the faceplate is also important. The standard size for networking face plates is 86mm x 86mm, and this is the size commonly used in the UK. Many European countries use the standard, and some are even used on cruise ships.
The material of a faceplate is usually metal, and in some cases it is made of ABS/PC. It is used for voice, data, and structured cabling transmission installations. The material is also compatible with multi-type installations, including fiber optic and copper cabling. The most common copper network cables are CAT5e or CAT6.
Using a low profile faceplate construction is a great option for fiber optic installations. It is also a good choice for data installations, conference rooms, and general work areas. The construction is also very adaptable. It camouflages with the color of the wall, and it comes with two mounting screws. This makes it a great choice for home theater media, structured cabling transmission installations, and voice installations.
Network face plates can be used with other types of network cabling accessories, including wall plates, gang boxes, and keystones.
Keystones are ideal for Ethernet networks, and they help create a professional installation look. A keystone is a jack that is fixed in a hole in the wall, and the inner part of the jack connects to a longer network cable. In addition to this, the keystone jack has an external Cat 6 modular jack, and the inner part of the jack is inside the wall.
Network face plates come in a wide variety of designs, including North American, Asia Pacific, and European configurations. In North American designs, a faceplate can support up to eight ports. In Asia Pacific designs, faceplates are capable of supporting up to eight ports.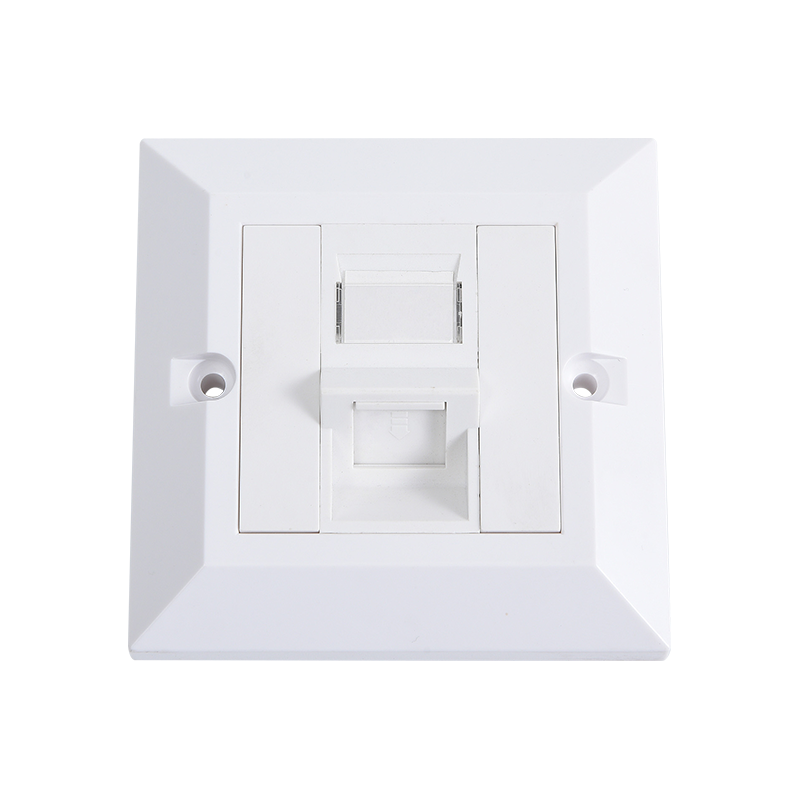 SMT-4306-86X-1X One Port Beveled Frame 45°UK Type Faceplate